Before entering Fugaku Wind Cave/Narusawa Ice Cave, be sure to watch overhead.
1. Inside the cave, the ceilings are generally low,
so please be constantly aware of the overhead.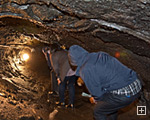 The lowest ceiling is 91cm at the lava tunnel, where you could easily bump your head. Please be careful.
2. High heel shoes are dangerous due to
the number of steps and ease of slipping.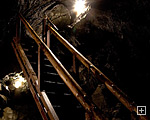 The Narusawa Hyoketsu Ice Cave has many stairs because it is a pit type cave.
The stairs are primitive and were made by piling up stones. The moisture causes the stairs to be slippery, so be careful.
In early spring, ice makes the stairs slippery as well, so wearing high heel shoes is extremely dangerous.
3. Caution: slippery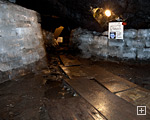 In the deepest areas of ice ponds, do not stray from the board-covered passages; ice can easily cause one to fall down and get hurt.
4. Elderly persons should especially take care.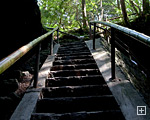 Since the return staircase rises a steep 21m, elderly persons should be particularly cautious.
Also, the ambient temperature difference in summer varies by more than 20℃. This can be harmful to visitors who have physical limitations such as heart conditions. Such persons are requested to please refrain from entering the caves.
5. Visitors with small children who cannot yet
walk are requested to take turns entering the
cave as much as possible.

There are narrow and dangerous places inside the cave, so persons carrying infants on back or holding them in arms are not allowed to enter the caves.
6. Animals are not permitted in the caves.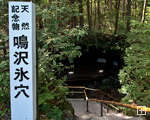 Since the cave interior was designated as a natural monument, pets are no longer allowed to enter (as of August 16, 2009).
Visitors with pets should take turns entering the caves. Well-disciplined pets (dogs that do not bark) can also be tied up outside the cave.
Although it normally takes about 15 minutes to tour the cave, please note that it can take 30 to 40 minutes during crowded time periods such as during Golden Week and summer vacation.
7. Please be aware that ice is not present all year round.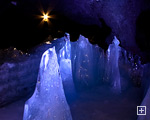 Natural ice forms during winter months, and can usually be seen until the beginning of autumn.
Please note that, due to weather conditions and air temperature inside the cave, ice is not always present year round.
Advice to visitors coming to see the Narusawa ice cave
The tour through the Narusaway ice cave only takes about 15 minutes, so take your time when entering.
Climb the return staircase steps slowly.
The final stairs are steep, so take a break before climbing them.
When there are few visitors present, exit in places where the handrail is low, or back through the incoming entrance.